eCabinet Systems is an extensive design, costing, sales and production support software program with features and capabilities that will benefit any custom cabinet operation from a one man shop to a large prod
---
uction organization.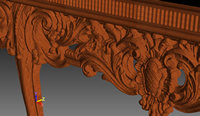 eCabinet Systems uses rich, three-dimensional graphics in its design area. Detailed solid model cabinet images (samples) reflect every aspect of the design. As changes are made, you can move, rotate, zoom and explode the image to make sure design details are exactly what you want. Modified cabinets are saved, further modified and saved again, quickly creating entire libraries of custom designs. These cabinets are then accessed, resized and used in actual jobs.
Multiple cabinets and components can be combined and saved as "assemblies" offering a powerful design tool for complex cabinets and furniture.
---
Create visually rich, textured, three-dimensional rooms, complete with cabinets and assemblies then generate photo-realistic renderings of the completed design (samples). These images are a powerful selling tool when working with a retail customer. Then, generate cost estimates, manufacturing data and CNC output for the layout.
---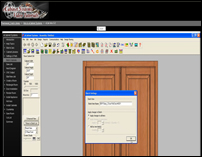 If you want a real, in-depth understanding of this outstanding software, there are several options for formal training.
Probably the best approach, is an extensive online training course offered as a monthly subscription ($25.00 per month) that you or your people can access at any time (Sample Introduction). The course content of this program is being constantly changed and updated as the software and underlying technology advances and improves.

The Nearly Complete Guide to eCabinet Systems

provides concise step-by-step instructions for all of the software's many modules. This guide provides a strong introduction to eCabinet Systems and introduces the designer to not only traditional uses of the software, but many other potential applications.
---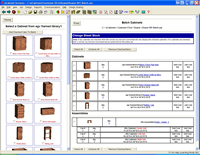 If you work from a manufacturing schedule and don't require room layouts, you can simply resize and add cabinets to a job and then generate cost, manufacturing data and CNC output for the job.
---
Input material and hardware prices, labor and overhead costs and the software will track job cost as you work. It will also estimate labor requirements for each function in your shop. The software can also add a profit factor and calculate the selling price for the job.
---
In addition to effective photo-realistic images of the job layout, the software can also generate a formal proposal that you can use to quote your customer and help sell the job.
---

The software offers complete manufacturing support, whether you use traditional production methods or a modern CNC router. You can generate a Cut List, Buy List and Cost Sheet for any cabinet, group of cabinets or an entire job. You can nest the job and print individual nest diagrams, individual part drawings and labels for each part. You can rename parts to make identification easier. You can create line drawings, assembly drawings, even exploded, three-dimensioned isometric drawings. And finally, you can create a CNC output file that can be sent directly to a Thermwood CNC router, either yours or one of the many Members that will machine parts for you. You can also purchase an optional software module that will output the job to a ShopBot CNC router. Using a "Code Splitter" module you can also output rectangular parts in a job to virtually any optimizer or optimized panel saw and output face frame or other board stock parts to a Tiger Stop.
| | | | | | | |
| --- | --- | --- | --- | --- | --- | --- |
| | | | | | | |
| Cut List | Buy List | Cost Sheet | Nest Diagrams | Nest Diagrams | Line Drawings | CNC Output |
---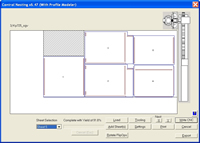 The software generates a CNC output file that can be sent to any Thermwood or other CNC router supported by the program where you can completely machine cabinet and furniture boxes including precision joinery and hardware holes. For higher production rates, you can use an optional software module to send rectangular parts to an optimized panel saw.
Machine drawer boxes in a nest in several configurations, including a dovetail joint. Machine MDF doors, including the ability to model profile and raise shapes using standard tooling if a custom tool is not available.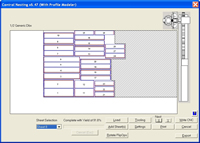 Machine, in the nest, face frame components, including a special "puzzle joint" that allows fast accurate assembly without clamps or screws. Machine intricate carvings using programs from the shared carving library.