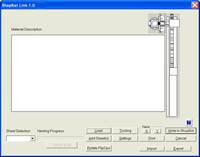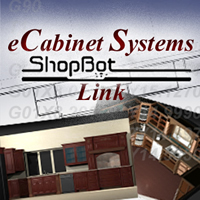 This link will allow you to export your eCabinet Systems .twd files into a format that will run on a ShopBot - the cost for this link is $1,295.
Once you complete your purchase, you will be sent a link to download the eCabinet Systems ShopBot Link (you can also access this download link from the My Account/Order Status link at the top of the Thermwood Online Store Page).
A physical hasp key will also be mailed to you once your order is processed (order will be processed within two business days). You will need both the ShopBot Link and the hasp key to start exporting your eCabinet Systems files to a ShopBot.
There are no additional fees for updates to the ShopBot Link!
Free To Try!!!
The eCabinet Systems ShopBot Link can be installed and ran as a trial without purchase. This allows you to "test drive" the application. You can load eCabinet Systems .twd files, set parameters, and nest. The application will not write code to the ShopBot Controller in the trial mode until a HASP key is purchased from Thermwood.
---
Note: You'll need the latest ShopBot software to use the eCabinet system and this means that you also need to have a ShopBot with a current control system. That would be either a PRTalpha, a PRTv4g, or any PRSalpha or PRSstandard CNC tools.
---
---