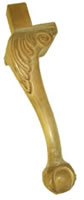 In this area you can download, for free, CNC programs to machine decorative wood carvings as well as files that display these carvings in eCabinet Systems. These programs only execute on CNC routers supported by the eCabinet Systems program.

There are two types of carvings available. Flat carvings such as skirts, onlays and trim can be processed on a three-axis machine. Three dimensional post and leg carvings require a rotary axis in addition to the three main axes. This type of rotary playback axis is available from Thermwood for Thermwood CNC routers.
Both flat and rotary carvings can be scaled up or down. Inset carvings incorporated in cabinet parts within eCabinet Systems will be machined as part of the nested based CNC output.

There are three components to each carving:
First, there is a setup-instruction sheet in PDF format that explains how to set up and run the program.

There is an HSF file, which can be loaded into eCabinet Systems and used as part of the design process.

Finally, there is the actual CNC file. This file can be downloaded either directly through the control or using an independent PC.  This file will only execute on CNC routers that are supported by the eCabinet Systems program.
Note: To execute these files on an older Thermwood CNC router you will require a system software  upgrade. For information call us at 1-800-221-3865 (Ext. 251) or Click Here and complete an upgrade request.
Click Here for Setup Information and Instructions
Thermwood Machine CNC Carving Library Program Version 3.0 (12/29/08)
The latest version of the Thermwood CNC Carving Library software is version 3.0. To download, click here (Note: you must have the carving program installed on your router to run this update).
This update includes:
The ability to scale rotary parts
The ability to scale by dimension and percentage
---
---
For more detail about accessing and using the carvings from your Thermwood Machine,
please click here
---
There are five types of carvings to choose from:
Applied Carvings (78 items)

These are Carvings cut out of a piece of material

Inset Carvings (61 items)

These are Carvings cut into a piece of material

Rotary Carvings (17 items)

These consist of posts, legs, finials, etc. They require the use of the Rotary Playback Devic

e

Moldings (35 items)

These are cut out of a piece of material

Furniture Carvings (42 items)

These are Carvings used in the construction of furniture from the eCabinet Systems Furniture Collections.